Cartoon Classic - 16x16 Mario-like Platformer Assets
A downloadable asset pack
About
Cartoon Classic is a 16x16 platformer asset pack with a cute cartoon style. This pack contains multiple unique environments, many decorations, a massive amount of enemies, a hero character, and more.

Also, included with Cartoon Classic are documented sprite sheets. The documented sprite sheets list recommended uses of tiles and sprites.

These assets can be used in commercial projects, and edited.
Credit is appreciated.


Includes
Hero: run, jump, climb, idle and hurt/death animations
12 Enemies: move, attack, idle and jump animations
Items: coins, gems, hearts, potions, fruit, star, etc.
Well over 1000+ tiles
Generic: ground, ceiling, walls, etc.
Structure: doors, crates, fence, pots, pillars, bricks, ladder, etc.
Multiple Environments: grassland, desert, tundra, etc
Nature: trees, bushes, cactus, rocks, weeds, grass, flowers, mushroom, etc
Sky and Water: clouds, plumes, flowing water, deep water, ice, etc
Mechanical: lever, button, springs, gates, etc
Misc: particles, cannons, moving platforms, etc
Many more tiles
Support
Unlock exclusive asset pack expansions, free monthly assets, and other perks by supporting me on Patreon.



Purchase
In order to download this asset pack you must purchase it at or above the minimum price of $7 USD. You will get access to the following files:
Cartoon-Classic-v-2.0.zip
166 kB
Cartoon-Classic-Documented-v-2.0.zip
210 kB
Cartoon-Classic-Examples.zip
23 kB
Comments
Log in with itch.io to leave a comment.
Good evening, I bought the pack these days, do the blocks with question marks have animations?
Doesn't seem like it currently has these animations. I'll add them in a future expansion :)
Hello, this pack is included in your patreon ?
Yep, at the correct tier (Ascended) you can claim it and any other one of my packs at the same price (per month). You also get a lot of free fonts, and other free assets. Cheers!
I purchased this while at work, I can't wait to show you the first level via Android using my custom game engine! Can't wait to see more!
Hey Vexed,
I'm creating a platformer with your asset pack, but I'm having trouble connecting a grass black to a side dirt block. If I don't, it looks weird. What do I do?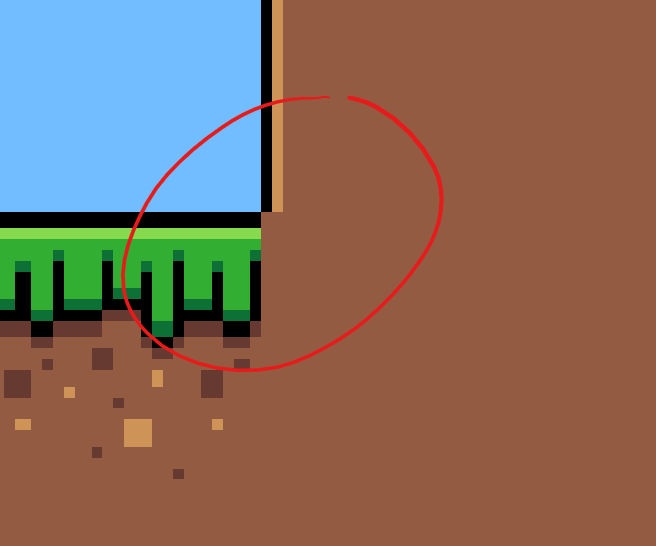 I'll add an update for you so you can use corners as shown in the image.
The pack wasn't originally intended to be used like this, but it is probably a good idea to include extra features.

I'll let you know once I get this update out, cheers.
Added some dirt corners. Get v1.2 and go to the Ground-and-Ceiling file (bottom right). Also added some other ends (look next to grass, snow, and sand).

Just bought your bundle, sorry I couldn't afford more. You definitely deserve patreons.
Thank you so much for any support, I appreciate it all. Patreon has been slow and steady, I'll keep working at it.

Cheers!