Chroma Noir - 8x8 Platformer Assets (1Bit)
A downloadable asset pack
---
About
---
Chroma Noir is a stylish 1-bit 8x8 platformer asset pack. The pack includes a wide variety of environments, multiple heroes, various enemies, and many decorations to create unique worlds.
Also, included with Chroma Noir are documented sprite sheets. The documented sprite sheets list recommended uses of tiles and sprites.
These assets can be used in commercial projects, and edited.
Credit is appreciated.


---
Includes
---
7 Hero Classes: move, attack, jump, climb & idle animations
4 Weapon Types: sword, staff, bow & axe
10 Unique Enemies: move & attack animations
Well over 1000+ tiles
Generic: ground, ceiling, walls, etc.
Nature: trees, cactus, rocks, vines, grass, flowers, etc
Water: sewage/clean water, coral, sea weed, sponges, etc.
Sky: clouds, winds, moons, suns, stars, etc
Buildings: table, chair, chest, crates, fence, flags, etc
Multiple Biomes: Grassland, Desert, Tundra, etc
Misc: symbols, patterns, chains, skulls, alter, banners, etc
Many more tiles


---
Support
---
Unlock exclusive asset pack expansions and many other perks by supporting me on Patreon.



| | |
| --- | --- |
| Status | Released |
| Category | Assets |
| Rating | |
| Author | VEXED |
| Genre | Adventure, Platformer |
| Made with | Aseprite, Tiled, GIMP, Adobe Photoshop, Krita |
| Tags | 1-bit, 2D, Dark, Minimalist, Pixel Art, Retro, Tilemap based tools, Tileset |
| Asset license | Creative Commons Attribution v4.0 International |
| Average session | Days or more |
| Links | Patreon, Twitter |
Purchase
In order to download this asset pack you must purchase it at or above the minimum price of $7 USD. You will get access to the following files:
Chroma-Noir-v-1.0.zip
77 kB
Chroma-Noir-Documented-v-1.0.zip
59 kB
Chroma-Noir-Examples.zip
25 kB
Comments
Log in with itch.io to leave a comment.
Can i alter the graphics?
If you have purchased the assets you can alter them and use them however you like.

To learn more of the license of these assets search "Creative Commons 4 Attributive".

Cheers.

What images am I supposed to use for the walk animation? Can't quite figure it out. I think I messaged the correct account on reddit about it?
Hey, thanks for the question.

If you download the "Documented" sprite sheet you can find the walk frames referenced in the "Heroes.png".
I didn't get a message on Reddit, my handle is _V3X3D_.

Hope this helps clear things up.

Oops, let me rephrase my question. What frames make up the walk animation? Already have all of the sprite sheets spliced, imported, and ready to go.

I just sent you a message on Reddit.

Many thanks!


Am I allowed to copy the main default looking character for my game? It will probably not be a big game but I will just use that one asset and copy it in aseprite. Can I use it?
If you have purchased the assets then you can use them for anything you like. They are CC4 Attributive, please read about the license.

Am I doing something wrong or is it the way the tileset is setup?
Correct me if I'm wrong but from the looks of it there's two sets of 'wall' tiles: one for walls below and one for walls above?

If so I guess I'll have to change the tileset or the way I use it as using the same walls means things like the chains don't line up correctly.
Great tileset though!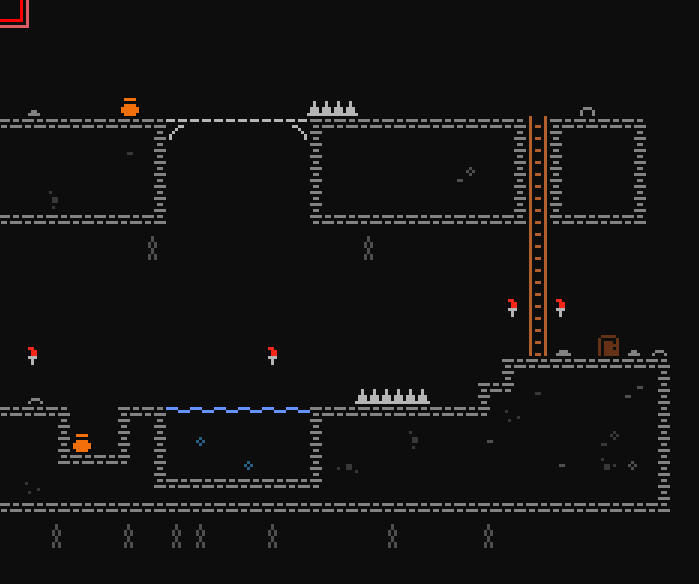 Hey, thanks for the question.
I do have two different ground tile types that are the same ground pattern just shifted up or down 1 pixel. This was the only way for me to get this awesome ground pattern to work for everything.
As for solutions to your problem, you can change the tileset like you said, or just adjust the chain position in your game engine, etc.
Thanks, I hope you continue to enjoy the tileset.
Cheers.
No worries! I'm a little new to working with tilesets and game dev in general so was just making sure I wasn't being silly!
Keep up the great work!


This is great. I've been working with the Retro Lines pack which I visually prefer, but this pack looks to have a lot more tiles to work with.
Anyhow I love your work.