Paper Pixels - 8x8 Platformer Assets (CC0)
Version 3.0 - Winter Biome (timed patreon exclusive)
---
About
Paper Pixels is getting it's second major update (v 3.0), this time with a whole new winter themed biome. This will be a timed Patron exclusive expansion.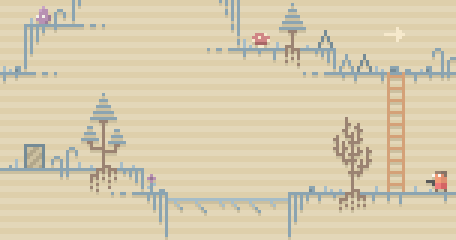 Checkout my Patreon to get early access to this and other exclusives, as well as free asset claims.


I'm working on 3.5 already. it is going to bring a few winter themed enemies to Paper Pixels. Stay tuned!

Includes
Winter environment tiles
New Signs (extra directions), ladders, etc
New tree types, Bush like trees, ice
Down facing spikes, and smooth clouds
Small additions, and visual fixes
Get Paper Pixels - 8x8 Platformer Assets (CC0)