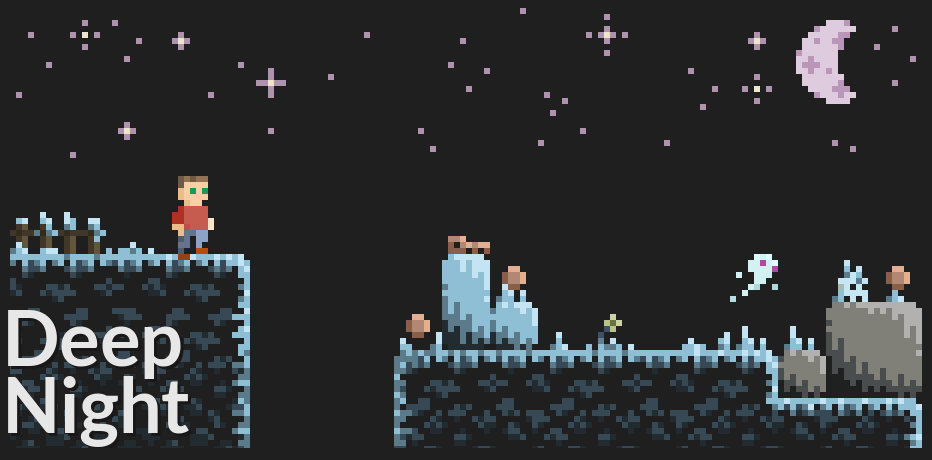 Deep Night - 8x8 Platformer Assets (CC0)
A downloadable asset pack
---
About
---
Deep Night is an 8x8 platformer asset pack with 400+ unique tiles, Including animated enemies, and a player

Feel free to use these in commercial projects, and to modify the tiles as you wish.




---
Related
---
---
Support
---
Like my assets? Consider supporting me. You get free assets, excusive expansions, unreleased content, and so much more!

Help others find my assets by providing a rating. Thank you!
(Click To Rate!)


Follow me on Twitter for news and updates!
Download
Click download now to get access to the following files:
Comments
Log in with itch.io to leave a comment.
thank you, that is so cool
Hey, fantastic little game. I love the way you made trees from my pack, quite creative.

Your credits are more than enough, thanks.

That is awesome, I greatly enjoy the Zelda 2 vibes this has going on. Also your addition of yellow/green shrubs to Deep Night look great. Any chance you want to share your Deep Night sprite additions? I have been wanting to add more to this pack and they would be great additions.

Thanks for using my assets, you have a lot of neat projects.
Oh, also that is a really slick looking itch page.

I am very pleased that you liked it. 😍
The whole project is open source including all my sprite additions. https://github.com/puppetmaster-/vollmond
Pull requests are very welcome. 😉
If you have PyxelEdit I can even give you the original tilemaps.
I really want to extend the project and maybe add some ghosts and slimes, music and sound effects are also missing.
I even had the idea to buy the Dream Catcher Tileset and create my own game based on the same style as Vollmond.
Ah, great to see the project is open source.
Extending the project would be great. If you make a full game in this style feel free to share it here as well.

I might just have to do a little update on this asset pack soon.

I really love this!! Thanks for sharing this with the world.
Quite the late reply on my part, but this looks like a fantastic platformer project.
Also, thanks for the kind words.

Great Job, They look Amazing!! Thank you